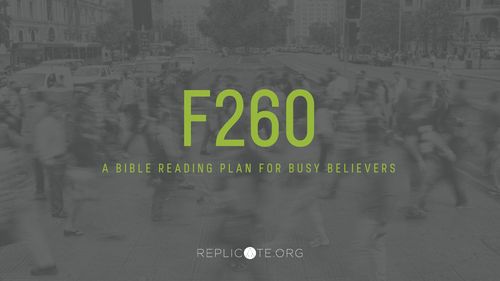 The Bible is the God's word (2 Timothy 3:16) and helps us to know the Lord's will, words and ways. It is the source of truth (John 17:17), the standard for righteous living (Psalm 119:9-11) and shines the path in life providing guidance and direction (Psalm 119:105).

Followers of Christ need God's word to survive and thrive (Matthew 4:4), resist the enemy and stand in God's protection (Ephesians 6:10-17). God's word acts like a mirror (James 1:22-25) to help us see ourselves in light of God's standard and shows us how to level up.

In it, we are told to read it, meditate on it, and obey it (Joshua 1:7-8). This plan to help facilitate that. Please join us in reading God's word and sharing (if desired) any insights with the group.

The F260 bible plan, in youversion, allows us to read 5 days and take 2 days for catchup, scripture memory or study. You can join the bible app version by clicking the link below. You can also download the printable version of the reading plan as well.